Training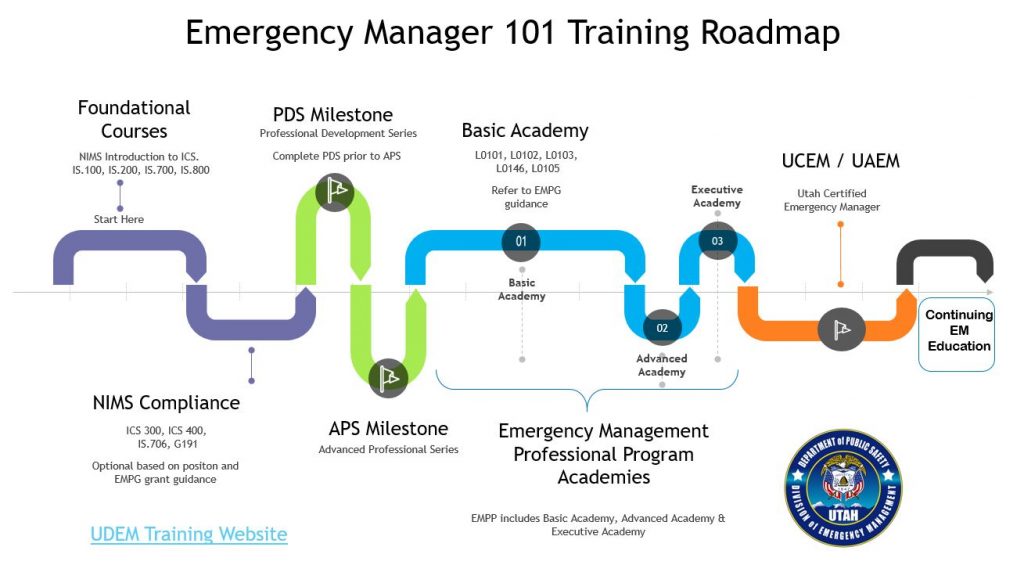 Training Request Form and Information
Local, County and Tribal Jurisdiction Emergency Managers may request FEMA and other emergency management related courses by completing a Training Request Form.
2024 Training Request Form (for courses to be held in the 2024 calendar year)
To request an AH-IMT Position Specific Course please complete the Training Request form above, as well as this application.
Applications
EMI has moved to Online Applications- Online Admissions information
EMI Online Application Non-Federal applicants for Emergency Management Institute (EMI) courses must use the appropriate State Training Officer (STO) as "Head of Organization". Please place Ronda Warner as the Head of Organization Name,  Title is Utah STO, email is rwarner1@utah.gov
How to obtain a FEMA Student Identification (SID) Number for EMI Applications
New FEMA Student Portal – access and print your Independent Study certificates
APS Application for Certification
Certifications
All Hazards Incident Management Team (AH-IMT) Information
Professional Development Series (PDS) Information
Advanced Professional Series (APS) Information 
National Incident Management System (NIMS) Information
Master Exercise Practitioner Program (MEPP) Information
Emergency Management Professional Program (EMPP) Information (includes Basic Academy, Advanced Academy, and Executive Academy)
Utah Safety Assessment Program (USAP) – To re-certify for the ATC- 20 Credential
All FEMA Training Programs Information
Utah Certified Emergency Manager / Utah Associated Emergency Manager (UCEM/UAEM)
2023 Training Calendar
We look forward to working with you to accomplish your future training goals.
Thank you for your consideration. Stay healthy and safe!
( * ) = APS Required Course and ( + ) = APS Elective Course
NIMS Independent Study Courses
>
Helpful Resources and Training

CISA Region 8 Training Events
Eventbrite
CISA Secure Tomorrow Toolkit
CISA
EMI Monthly Newsletter
EMI
EMI Training Opportunities and Bulletins
EMI
Continuous Improvement Technical Assistance Program (CITAP)
FEMA

Date

Course #

Course Name




Location

U-Train ID

November

1-2
ICS 400
Advanced ICS Command & General Staff-Complex Incidents
Ogden, UT
1011057
7
G191
ICS/EOC Interface
SLC, UT
1011067
28-29
G290
Basic Public Information Officer Course
Spanish Fork, UT
1011053

December

5-6
 ICS 400
Advanced ICS Command & General Staff-Complex Incidents
SLC, UT
1011057
13-14
MGT345
Disaster Management for Electric Power Systems
SLC, UT
TEEX MGT345

January 2024

8-11
L0969
All-Hazards-IMT Communications Unit Leader (COML) Course
Logan, UT
ID 1024743

February

March

April

May

June
Other Training Websites
FEMA Consortium Training Partners
NIMS Resources
2015 NIMS Data Collection Tool – To be used by State/County/City/Tribal EM Agencies
National Incident Management System (NIMS) Resource Center
ICS Resources
Self Populating ICS Forms Workbook ver. 3.2.3 – Developed by Texas IMT and Texas Forest Service