I Wonder Webinars
The Utah Division of Emergency Management hosts a webinar series that provides local emergency managers with relevant content and opportunities to enhance their capabilities. Webinars are live for Q&A, and are recorded for later viewing on the DEM YouTube channel. Some webinars will be seminars or workshops with a hands on portion which will allow emergency managers to become oriented to a DEM process or test a DEM product.
Schedule: No webinars are scheduled at this time.
Every Third Thursday at Noon (MT) – except holidays
25-60 minutes total each webinar
Join online at: meet.google.com/sbc-nmha-ank
Join by phone: 1 760-999-0637‬ PIN: ‪444 758 393‬#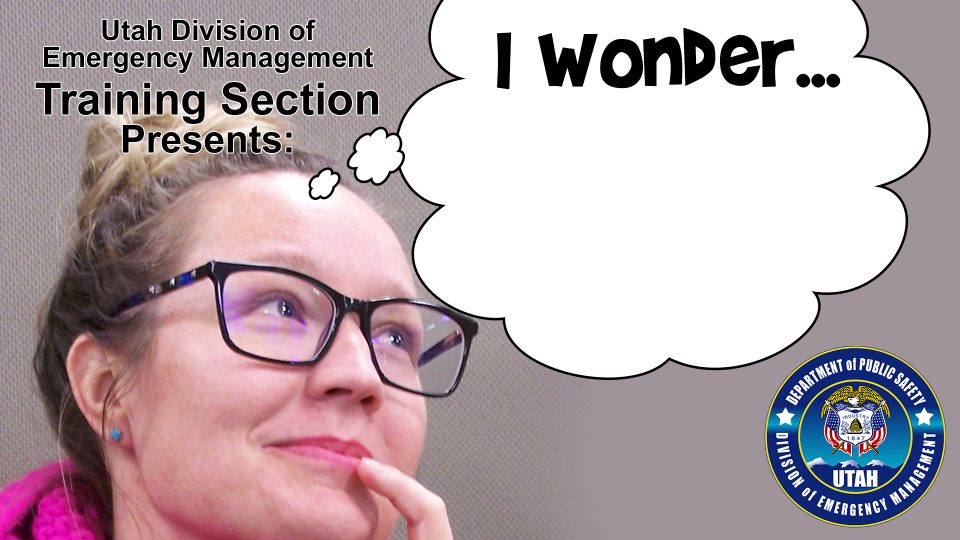 Upcoming Webinars:
No Upcoming Webinars are scheduled. We are exploring new topics and ways to provide relevant information to our EM community.
Please review our Past Webinars.
Past Webinars:
November 12, 2020 – "I wonder" what is an IPPW and IPP?
November 19, 2020 – "I wonder" how flood risk maps are created & updated for my jurisdiction.
December 3, 2020 – "I wonder" how to use Survey 123 for damage assessment.
December 10, 2020 – "I wonder" how to find preparedness videos and other preparedness information.
December 17, 2020 – "I wonder" how I can get a preparedness specialist to present at our local event.
January 7, 2021 – "I wonder" What Programs Exist to Help Our Schools Be Ready.
January 14, 2021 – "I wonder" what exercise opportunities and tools are available to Utah Emergency Managers
January 21, 2021 – I wonder what COOP is all about.
January 28, 2021 – "I wonder" how I can alert the public
February 4, 2021 – "I wonder" what THIRA/SPR is all about.
February 11, 2021 –"I wonder" what resources are available for senior officials
February 18, 2021 – "I wonder" how to expedite my request for a mission or resource through the state EOC
February 25, 2021 – "I wonder" who are the community support liaisons
March 4, 2021 – "I wonder" what is the Utah Seismic Safety Commission and why does it matter?
March 11, 2021 – "I wonder" what is Statewide Mutual Aid
March 18, 2021 – "I wonder" why we do damage assessments
April 1, 2021 – "I wonder" what is a FIT (FEMA Integration Team) and why are they in Utah
April 15, 2021 – "I wonder" what resources are available for professional development
April 22, 2021 – "I wonder" how a PIO writes news releases
April 29, 2021 – "I wonder" how does a local jurisdiction request air assets
May 6, 2021 – "I wonder" what is the relationship between floodplain and emergency management
May 13, 2021 – "I wonder" how to conduct a news interview
May 20, 2021 – "I wonder" why An Emergency Manager Needs To Care About Building Codes and Planning (Show Me The $$$)
May 27, 2021 – "I wonder" what is the future of the "I Wonder" webinar series
June 3, 2021 – "I wonder" about the Utah Search and Rescue Reimbursement Program
June 17, 2021 – "I wonder" about disaster financial management
June 24, 2021 – "I Wonder" what is EMAC
July 8, 2021 – "I Wonder" What Be Ready Utah Information is Available to Me
July 16, 2021 – "I Wonder" What the Post Wildfire Team Does
July 29, 2021 – "I Wonder" How URM Strategies Help Reduce Risk
August 19, 2021 – "I Wonder" How to Organize and Update My EOP
September 23, 2021 – "I Wonder" What Be Ready Business Is
November 18, 2021 – "I Wonder" How to Identify Critical Infrastructure in my Jurisdiction
January 27, 2022 – "I wonder" how can I use situational awareness tools in my EOC
February, 2022 – "I wonder" what information I'll find on the new Utah Risk MAP's website
March, 2022 – "I wonder" how to use Project Management in Emergency Management
April, 2022 – "I wonder" What's Shaking?"