News release: Flood Safety Awareness Week 2017
UPDATE 6/6/17: We've added that Utah has now had seven river fatalities and a "water watcher" safety tip.
UPDATE 5/11/17: The first line has been updated to reflect Utah's current disaster declaration count.
Helping you help others get ready for floods
SALT LAKE CITY — Flooding is the most common weather-related natural disaster. In Utah, ten of the state's 12 major disaster declarations have been related to flooding.
The message: Floods happen and they can happen anywhere, so this is time for Utahns to prepare.
Gov. Gary Herbert has declared March 12-18 to be Flood Safety Awareness Week 2017.  We've seen some flooding in the state so far, but that's likely not all of it. We hate for people to be caught off guard.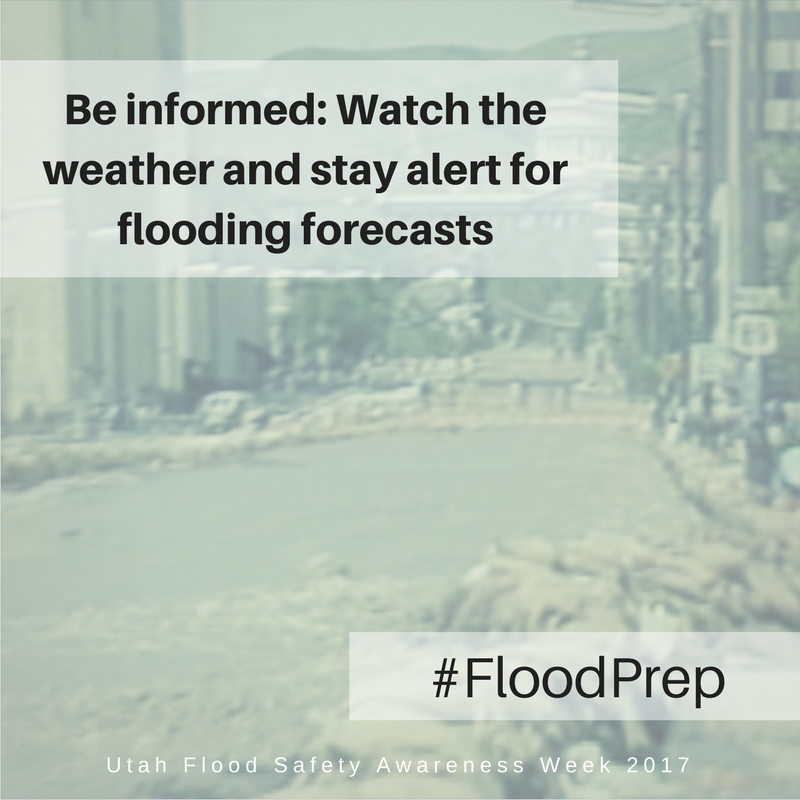 Governor Herbert's awareness week proclamation
The Utah Division of Emergency Management and National Weather Service want to share the following tips that can help Utahns prepare for floods:
Flood insurance
You don't have to live in a special flood hazard area, often called a flood zone, to be hit by flooding. About 25 percent of flood insurance claims are from properties outside of flood zones.
Flood insurance policies are separate from a regular homeowners policy and have to be in place 30 days before a flood claim can be made.
The average flood insurance premium is $700 a year, but many property owners pay between $100 and $200 a year.
The average flood damage claim is $39,000.
Most Utahns can purchase flood insurance, even if they don't live in a flood hazard area.
Flood safety
As of June 6, there have been 7 fatalities in Utah's rivers.
Stream and river waters from snowmelt can be extremely fast and cold. Take care of children and elder adults when recreating near rivers. Hypothermia can set in quickly.
Designate a "water watcher" when you are recreating: An adult who pays attention to activity near water and is not distracted by a cell phone or other adults.
Flood waters that flow over land pick up a lot of nasty stuff along the way: Raw sewage, spilled fuel and other chemicals, as well as sharp objects. Stay out of flood waters if you don't have proper protective gear.
Six inches of flowing water can knock an adult down.
It only takes a foot of flowing water to float away a car and 18 to 24 inches of water can float away an SUV.
Flood preparedness
Gather emergency supplies now in case you have to evacuate.
Put important documents in a waterproof container.
Know the difference between a flood watch (flooding is possible, so prepare to act) and a flood warning (flooding is expected, so move to higher ground).
Pay attention to weather forecasts and sign up for your community's alert notification system.
Useful links
Be Ready Utah flood preparedness
FEMA Region VIII flood preparedness (includes PSA's)
Utah Division of Emergency Management social media resources
NOAA flood safety
###
The Utah Division of Emergency Management (dem.utah.gov) is the State's lead agency for coordinating state resources in a disaster. Utah DEM also conducts emergency preparedness efforts before a disaster through its Be Ready Utah program (BeReadyUtah.gov). Be Ready Utah aims to help families, businesses, schools and communities get ready for disaster. CERT belongs to the Be Ready Utah communities initiative.
---
Contact: Joe Dougherty
Public information officer
Utah Division of Emergency Management
jdougherty@utah.gov
801-538-3738
Tags:
flooding
,
jdougherty
,
preparedness
,
utflood