Jobs
Work for DEM, work for Utah.
The Division of Emergency Management serves the local emergency management community, state government agencies and the residents of Utah through planning, training, preparedness, mitigation, recovery and response activities. We administer federal grants, emergency response logistics and a variety of resources to help local government in its emergency responsibilities.
Job openings for the Division of Emergency Management will be posted on this page, as well as on the state jobs website. Applications must be submitted online on that site.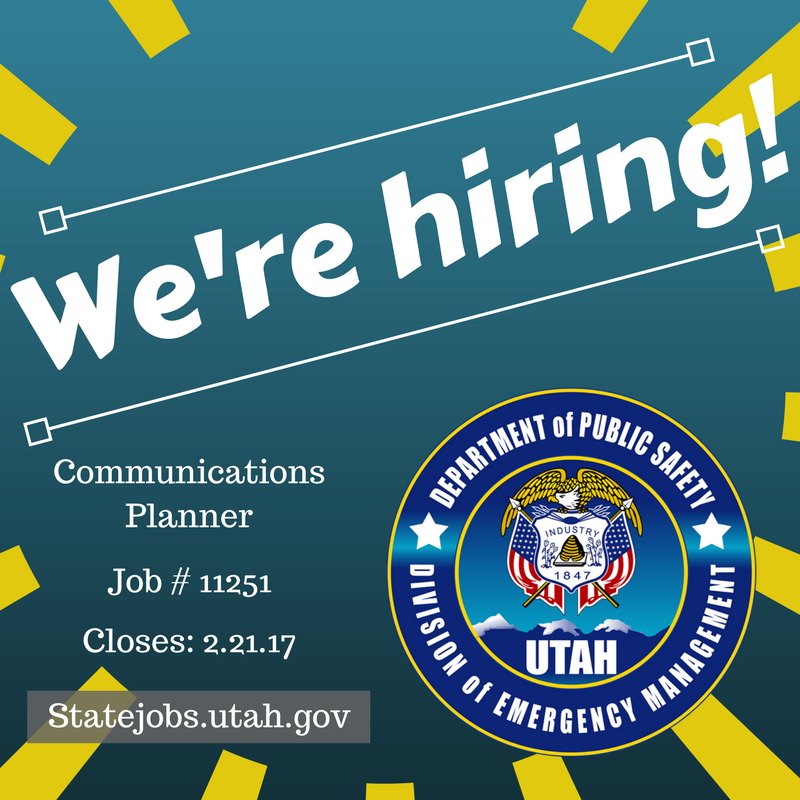 Currently we have one opening:
The Division of Emergency Management has a recruitment open for a Communications Planner (Emergency Prep Planner).  This is a public recruitment.  Anyone who is interested in this position must apply online at https://statejobs.utah.gov  Refer to requisition #11251.
All applications must be submitted online.  Resumes emailed/faxed will not be accepted as an application.  The recruitment will close on Tuesday, February 21, 2017, at 11:59 PM
Provide reliable Emergency Communications capability for response and recovery during an emergency or disaster. This involves installation, maintaining, exercising, analyzing, and resolving problems on complex radio and other communication systems.  Incumbent would be responsible for updating and maintaining emergency communication plans as well as operational plans.  Incumbent would be responsible for mobile equipment and testing of communications equipment in the State Emergency Operations Center and Alternate Emergency Operations Center, as well as maintain records, participate in radio tests, and documentation of communication systems. Responsibilities also include maintaining and updating equipment in the mobile communications van and all communications equipment used by staff and deployable communications equipment.
Go to 
https://statejobs.utah.gov
  Place your cursor over Job Search tab; select Job Listings; search either by category, location, or by department. Click "Apply Search" at the bottom of the page. Scroll down to see a list of open postings which fit your search criteria. Once you find the job, click on the title, it will then take you to a new screen; then click on the green apply button.  A new window will open which will require you to set up a new job seeker account.  Once your new account is complete, you'll be able to apply on this job posting.
DEM occasionally hires interns on an as-needed basis.