Home
Governor's Public Safety Summit

May 5-6, Davis Conference Center, Layton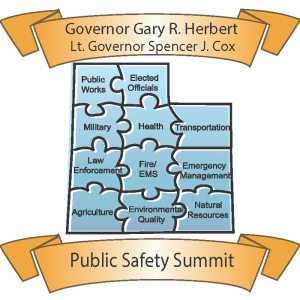 Was April 16, 2015
Didn't hold your drill yet? It's not too late.
America's PrepareAthon is April 30.
Come join the 960,000 Utahns who already participated. Register at ShakeOut.org/utah.  After your drill, you can upload photos, stories or videos to the ShakeOut website by logging into your profile.
Take time to ramp up your preparedness by visiting our BeReadyUtah.gov program
Since 2012, more than 3.4 million Utahns have participated in the Great Utah ShakeOut. You can also download your own banners to display on your website, blog or Facebook page from the Resources section of the site.
Want to know who participated? Here's the list
Show your participation by downloading your own web or social media images and banners here.

Follow the ShakeOut on Twitter: @UtahShakeOut or by using the hashtag #shakeout there, on Pinterest, Tumblr or Instagram. Check us out on Facebook, too: Facebook.com/UtahShakeOut
Find My Emergency Manager
Click the house icon to center the map.