Situation Reports and Weekly Briefings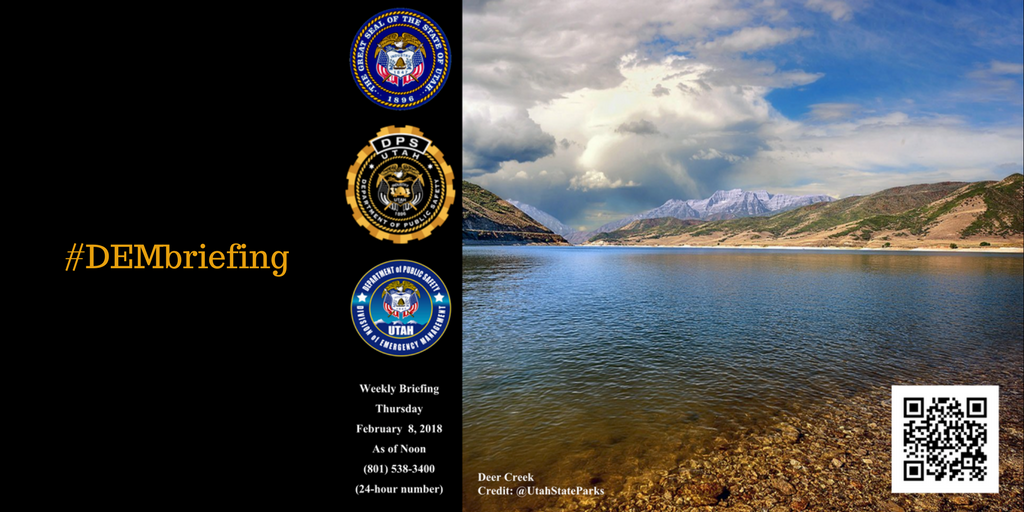 Included is the Utah Division of Emergency Management's Weekly Briefing for Feb. 8, 2018. Please follow the link to view the entire report.
Significant Actions

New: Grand County – On January 18, Grand County made a Declaration of Drought Emergency due to the lack of adequate snowpack and moisture. Drought conditions are creating a threat to human health and safety, the environment, the agricultural industry, potential wildfire risk, general economy, as well as culinary, secondary, and agriculture water supplies. For a look at current drought conditions across the State, click here.

Significant Events

Salt Lake County – Funeral services will be held on 

Saturday, February 10

, for Jon Huntsman Sr. at the Jon M. Huntsman Center at the University of Utah. Large crowds are expected.

Significant Weather
### 
Why we do this:
The Division of Emergency Management's planners regularly disseminate information to the emergency management community and top elected officials. The information takes one of two forms depending on the nature of incidents in our state. Both are designed to keep our stakeholders on the same page when it comes to the potential for activation of state resources.
Weekly Briefings — These briefings are sent each Thursday around noon and contain a synopsis of weather events, upcoming large group gatherings and preparedness information.
Situation Reports — These reports are sent when emergency situations warrant. SitReps generally come out once a day during an incident that requires state-level resources or coordination.